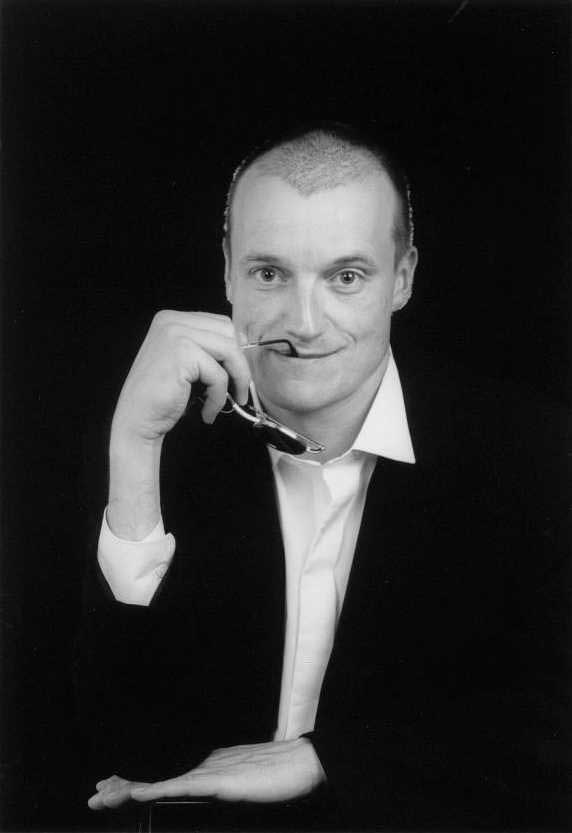 copyright : Arlette Besançon
Blaise Mettraux was born in 1962 in Lausanne. At the age of six, he started to play the piano at the music academy of Lausanne. From 1982, he goes on with his studies at the jazz academy in Fribourg. He takes part to many concerts throughout Europe and to the creation of some albums in the pop music field with bands like Cosa Nostra, Taboo or Sens Unik. In 1990, he goes back to the music academy in order to complete his studies in counterpoint and harmony, direction, analysis and obtains, in 1993, a teaching diploma.

From 1995 on, his activities as a percussionist within two symphonic orchestras (OSUL – OSG) leads his interests to musical composition for choir and orchestra. In 1996, he composes a "Mass in D minor" for the mixed choir, alto solo and orchestra, created in 1997 at the cathedral of Lausanne with the OSUL and the "Chœur des gymnases lausannois". In 1997, he creates a choral suite "Chemin Faisant", ordered by the SCCV for the cantonal celebration.

From 1998 on, orders follow orders in most various repertoires.
Among these works :

Music for orchestra : "Double Concerto" for clarinet, bassoon and orchestra ; "Concerto for violin" in memory of Paul Klee ; "Concertino" for xylophone ; "Passion" for 12 percussions and narrators.

Chamber music : "Tribal Dances" for 2 pianos and percussions ; "Images de rêve" for reed trio ; "Impromptu" for harp and marimba ; "Tango" for harp solo ; "Confettis" for piccolo and percussions, etc.

Vocal music : melodies for soprano and for mezzo ; "Five Japanese Melodies" for soprano, violin, piano and percussions ; "Invitation au Surrealisme" for mixed choir ; "The 7 Words of Chist on the Cross" for soloist choir and organ ; as well as numerous popular songs for mixed choirs, women choirs and men choirs.